Baldy Peak, Belize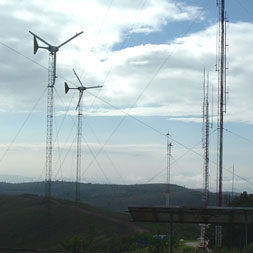 Air Traffic Navigation Beacon and Communications
COCESNA is the organization responsible for air navigation and control for Central America. Baldy Beacon in Belize is one of COCESNA's primary communications sites. The site is remote and COCESNA originally used a diesel generator and batteries to power its equipment, but found that the reliability was not up to their requirements.
After a 1996 feasibility study by NRECA in Guatemala, COCESNA, which is based in Honduras, decided to convert the Baldy Beacon site to wind power with diesel back-up. They issued an international bid in July, 1997.
Since COCESNA preferred to use "local" contractors, BWC teamed with Solaris, its dealer in Tegucigalpa, Honduras. BWC assisted Solaris with the system design and site layout, and helped them to source the non-BWC components of the system. The final winning design included two 7.5 kW Bergey turbines on 24 m (80 ft) guyed lattice towers, a sealed 24 VDC battery bank, DC switchgear, and a sine wave inverter.
The equipment was shipped in late 1997 and installed under BWC supervision in April 1998. The towers and turbines were erected using a gin-pole and winch system. This equipment was shipped down to Belize for the job and then returned to BWC. This is a common procedure for remote sites where cranes can not be brought in.
The only operational problem with the systems was a wind turbine regulator damaged by a lightning surge several months after commissioning. The second wind turbine covered the load, however, so there was no downtime for the COCESNA equipment. The surge arrestors on the project have since been upgraded.
---