French Islands, Victoria Australia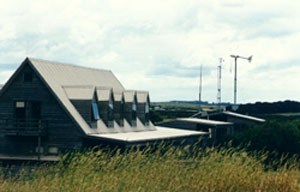 Eco-tourism resort
In the mid-80's the Victorian Solar Energy Council (VSEC) decided to install a wind/PV hybrid system at a tourist cottage on French Island, just south of Melbourne, Australia. Unfortunately, the original Swiss (Electro) wind generator failed shortly after installation and a replacement unit, from Australia, also failed after a short time. Luckily for us, VSEC was tenacious and in 1990 installed a 7.5 kW Bergey Excel wind turbine generator on a 15m tilt-up tubular tower.
The BWC system has operated without problems (except for some minor corrosion) since installation. The wind turbine provides ~80% of the resorts power. The balance is provided by solar panels and a back-up diesel generator.
The French Island turbine was partially manufactured in Australia by BWC's licensee and partner: Venco-Westwind in Perth, Western Australia. A number of additional systems have since been installed by Venco throughout Australia. Venco has also supplied a large number of turbines for telecommunications projects in China.