Krasnoe Village, Russia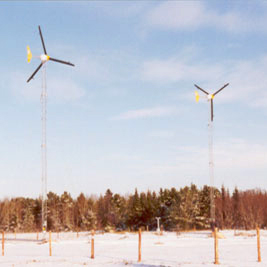 Project
Krasnoe Island, in the mouth of the Devina river, is one of 21 pilot village electrification projects throughout Northern Russia using Bergey wind turbines. In the Northern Territories of Russia (Siberia) there are approximately 20 million people living without access to the electricity supply grid.
The Russian Ministry of Fuels and Energy (MFE) plans to electrify these areas with a variety of renewable energy sources, including wind power. Northern Russia has excellent wind and biomass resources.
The current pilot projects are being supported by the U.S. Agency for International Development (US-AID), the U.S. Dept. of Energy (US-DOE), the U.S. National Renewable Energy Laboratory (NREL), MFE, and various territorial governments in Northern Russia.
The system
The Krasnoe Island system was installed in September 1997 under the supervision of BWC technicians. It consists of two 7.5 kW turbines on 24 m (80 ft) Tilt-up towers, a 48 VDC battery bank, three 4.5 kW Trace inverters, and associated switchgear. The system works with the existing village diesel generator to provide 24 hour power with a minimum of diesel fuel consumption. The site conditions in the winter are quite harsh, with temperatures reaching - 40 degrees F.
The system has worked without any problems since installation. NREL has installed performance monitoring instrumentation to assist MFE planners in evaluating the systems.
If you would like more information on this project and have Adobe Acrobat Reader, we recommend the4-page CADDET reporton the project.
---