Oil Pipeline, Argentina, Chile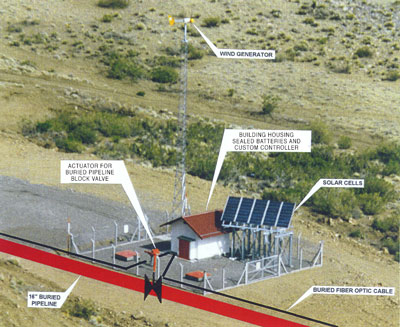 Block Valves and SCADA for Oil Pipeline
The Trans-Andean Oil Pipeline runs ~ 1200 km (750 miles) through the Andes Mountains to deliver oil from Argentina to Chile, ending up near Concepcion. Approximately every 80 km the pipeline is equipped with a blocking valve and SCADA (System Control And Data Acquisition) system for remotely monitoring and controlling the system.
At 5 of 13 block valve sites utility power is available, but at the 8 other sites power must be generated on-site. In 1993 BWC received an award for power systems at all 13 sites.
The pipeline equipment runs on 24 VDC power so for the five grid-connected sites the BWC power system included a battery bank and a grid-powered battery charging system. At the other eight sites the batteries were charged with a 1.5 kW Bergey wind turbine and a 1.8 kW solar array. No back-up generators were used.
In addition to the normal hybrid system equipment, BWC designed and fabricated custom DC power centers for the Trans-Andean Oil Pipeline project. The BWC supplied power systems were installed by the pipeline contractor, Fluor-Daniels, in the spring of 1994. The picture above shows one of the finished sites, with the pipeline and valve sketched in.
Early on, a few of the sites experienced problems with their solid-state solar charge regulators and a retrofit was required to overcome the problem. Since that problem was solved in 1995 all sites have had 100% power availability. To our knowledge, no maintenance has been necessary on any of the eight wind systems in the project.