Parwan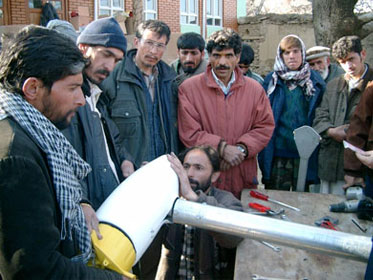 11 stand alone systems have been installed. They include villages in the districts of Parwan, Wardak and Kapisa. These communities are home to thousands of refugees returning home from Pakistan and Iran, following the demise of the Taliban regime.
The first wind turbine is installed in Parwan and the second will be installed in Kapisa by the time this article is published. Installation was simple and the first was supervised by Empower while the second is done independently, with a review to be done next month. One water treatment installation was also done in a Kabul high school to provide clean water to the school and community residents. It has proved very popular.
Participants
Empower Consultants Ltd.
A New Zealand based development consultancy that has specialized in community scale infrastructure and sustainable local management structures for long term project success.  Empower had the idea for this project, essentially by combining water treatment systems successfully deployed in Nepal, with wind and solar experience gathered from projects in the neighboring Pakistan province of Balochistan. Empower had worked in Pakistan since 1996 and had visited Kabul during the Taliban time in 1999 so was not unfamiliar with the area.
New Zealand Government.
Were receptive to the idea and agreed to make a special case for funding the project after receiving the proposal from Empower.
The Afghan Ministry of Rural Reconstruction and Development.
Agreed to provide their engineers and support staff to support the project on the ground. A very professional and enthusiastic team resides within MRRD and have been a lot of fun to work with. The provide both female health educators and water and sanitation engineers to in turn train village level operators.
UNICEF
Provide a degree of higher level international project scrutiny and support when the NZ team are out of Afghanistan.
Purpose
Afghanistan's power and water infrastructure is literately in ruins. Portable drinking water is sourced from wells and open streams, of which, more than 90%  are contaminated to one degree or another.  There is very little sanitation services so human and animal waste just runs back into the streams for the next village to consume, or dries and blows as dust into the wells and everywhere else. There is also a paucity of education into why sanitation is important and about hygiene in general.
Improving water quality can make a dramatic improvement. It is a Western myth that developing country people get immune to drinking contaminated water. They do not get used to it as much as they get used to being sick. Perhaps a degree of tolerance is developed but overall they do get sick like everyone else.
Implementation.
Empower has worked in Nepal to install solar and micro hydro powered ozone based water treatment systems around the Annapurna Circuit. These have proved technically robust, easy to operate and maintain, have significantly reduce plastic litter from disposable bottles and improved local health stats.  Simultaneously they have created successful small businesses for local Mothers Groups to own operate and use profits for their own development agenda.
Empower successfully requested funding from the NZ government and set about working with the Afghan Ministry of Rural Reconstruction to develop a team of local engineers and social mobilizer/health educators who could travel to remote communities and train/install/commission the small water treatment units. Empower first undertook a training needs assessment and site identification visit to Afghanistan in September 2002. Preliminary training on the first of the 11 units supplied was done at that time.
Once the equipment had been purchased and shipped, Empower again returned to Afghanistan to assist with the first 5 field installations. These included wind and solar installations.  MRRD would first visit the site with female health educators and social mobilizers who would undertake a basic baseline data survey of the individual households in the community and also provide water and sanitation education to the household women at the same time.
Equipment
The power system consists of a Bergey XL.1 1 kW wind turbine on a 42 ft tilt-up tower, 280 W of PV, a small battery bank, and an inverter. The water treatment technology used is small scale ozonation system. It is developed in New Zealand and uses around 160 watts of power to generate 2 grams per hour of ozone. Treatment is done on a batch basis and lots of 500 liters are treated and dispensed at a time. Ozone is very effective and uses minimal amounts of energy. It is highly effective against waterborne disease. Most communities are using the system to treat around 2000 to 4000 liters of treated drinking water per day.