Pengchiayu Island, Taiwan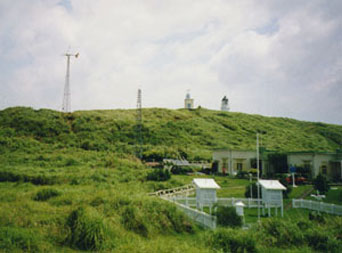 Project
The Taiwan Central Weather Bureau (CWB) operates a weather station with a staff of three people on the small island of Pengchiayu ~ 40 km (25 miles) off the northern tip of Taiwan.
Power for the weather station is provided by a 7.5 kW Bergey wind turbine and a 10 kW solar array. The island, which is off-limits to civilians, also supports a lighthouse and a military detachment. It has an extremely corrosive environment and it experiences typhoons with winds over 70 m/s (157 mph).
CWB contacted BWC in 1990 after learning of BWC's successful Canton Island project (see BWC Case Study) from the National Center for Atmospheric Research (NCAR). Following a site survey and a formal bidding process, BWC was contracted in 1992 to supply and install a complete remote power system.
The project was challenging because of the difficult logistics, lack of any equipment on the island, and the tough environmental conditions. For example, the CWB specified an all stainless steel self-supporting Tilt-up tower that could be lowered in under one hour in the event of a typhoon. BWC designed and built the special tower system and completed the installation in May,1993.
In 1995 BWC had to replace the alternator on the wind turbine after it filled with water during a typhoon (tower was lowered at the time) and at the same time replaced the original square-wave inverter with a larger sine wave inverter. The system is now maintained on a bi-annual basis by BWC's dealer in Taiwan, Uniergy Energy.