Recycling Center, Quebec Canada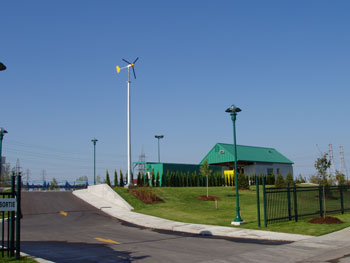 Hybrid Solar-Wind System for Recycling Center
Matrix Energy provided Quebec's first renewable grid-tie system in the province of Quebec for the city of Montreal's Eco-centre (residential recycling facility) located in Riviere des Prairies. The system incorporates both solar photovoltaics (PV) and a small Bergey wind turbine.
The city of Montreal's Eco-centres are user-friendly, community-based facilities where residents can dispose of bulky objects and waste materials, such as furniture or demolition and renovation waste that is not accepted in regular pickups of household garbage or recyclable materials.
A 1.5 kW solar array installed on the rooftop and a 1.0 kW Bergey XL.1 wind turbine mounted on a 12-meter pole installed adjacent to the main building will furnish the essential energy required to operate the Eco-centre. Tied to Hydro-Quebec, the first ever for the province, using separate SunTie and Grid-Tie inverters, this systems works in 2 ways, according to Matrix Energy.
Taking advantage of net metering, when the system produces more energy than the Eco-centre requires, it will act as a micro-generating station and transmit the surplus energy to the hydro grid. If the system generates less than is needed, the Eco-centre will take the energy it needs from Hydro-Quebec
Matrix's grid-tie solar and wind turbine electric system changes DC electricity into useful AC electricity and also sends excess power generated back to the Hydro-Quebec. The wind system also includes batteries, providing reliable back-up power during grid power outages. The battery-based inverter allows the Eco-centre to send power back to Hydro-Quebec, while also protecting the Eco-centre against power outages.
In addition to providing the grid-tie system design to the project engineers and architects, Matrix Energy supplied all the system requirements including; solar modules, roof mount, inverters, battery bank, wind turbine, voltage controller.